What a trip this was! A numbing confusion of flowers is a fair way to describe it, in the nicest possible way. South-western Australia quite literally bombarded us with diversity from start to finish. To give some idea we saw over sixty species of orchid alone. Beginning in Perths' King's Park Botanic Garden we saw one stands of Diuris corymbosa, and the dainty pink Caladenia latifolia among stands of the kangaroo paw Anigozanthus mangelsii, a plant with wonderfully architectural red and green inflorescences. There were even more impressive displays of the latter at Wireless Hill, another interesting slice of native bush within the pleasant city. Here were Caladenia arenicola, C. discoidea and Rattlebeaks along with some fine cycads.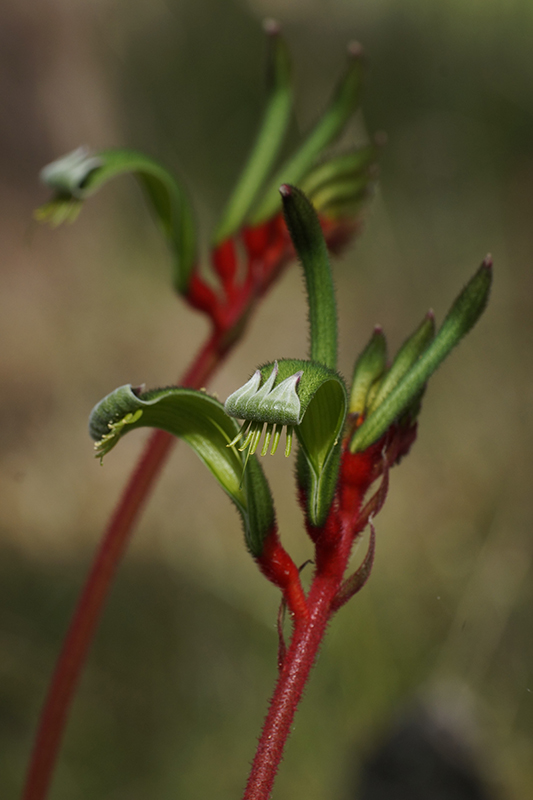 Moving north to Badgingarra the richness of the kwongan heaths became apparent with drifts of Rhodanthe chlorocephala, six more orchid species and the first of a multitude of peas. Fabaceae comprise (a confusing) twenty five percent of the flora and vivid coloured peas were everywhere, from the deadly Gastrolobium (source of 1080 poison), to pink Gompholobium, purple Hovea or orange and pink bicoloured Chorizema. Another northern highlight was the remarkable 'discs' of Lechenaultia macrantha that lined a roadside near Pindar, each ringed with dozens of cream and rose flowers. Then there was a riot of colour along one section of heath at Mount Leseuer with the raspberry-scented Hakea neurophylla the star-turn here. But one little gem took some finding, even though we knew they were there. With persistence we found he iconic Queen of Sheba, Thelymitra pulcherrima, a stunning blend of gold and purple shining in the sun.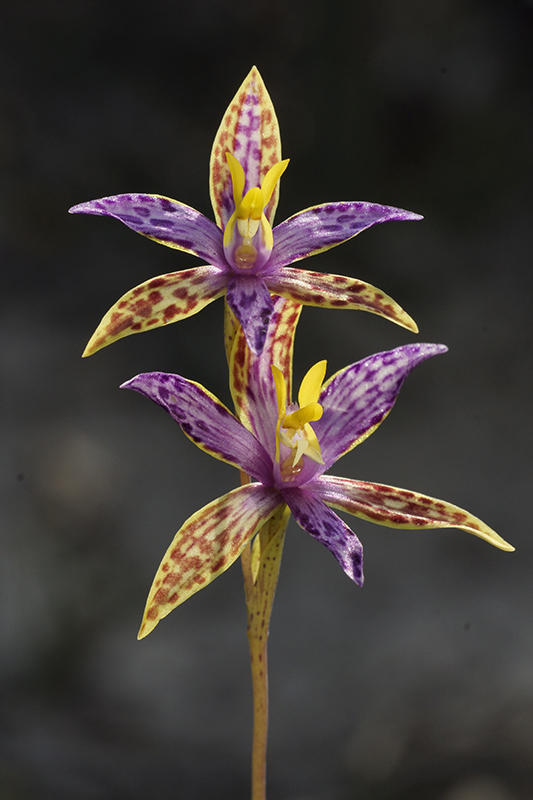 Moving south we picked up many more orchids, with no less than twenty three including hammer, bird and various spider orchids. The richness of the Stirling Range included the silver-leaved Kingia australis that framed views of the rugged range, with bushes of Darwinia lejostyla all around dripping with delicate pink bells. Another beautiful pink bell Pimela physodes was found near Fitzgerald River on a day of bad weather, when we had struggled (successfully) to photograph custard orchids in the wind and then waiting for the heavy rain to pass for us to enjoy the incredible stands of Hakea victoria, the leaves rich blend of autumnal colours. The vivid Banksia coccinea was common in the south (we saw eight species of Banksia is flower) and near Albany, superb stands of Callistemon glaucus were topped by hundreds of crimson bottlebrushes.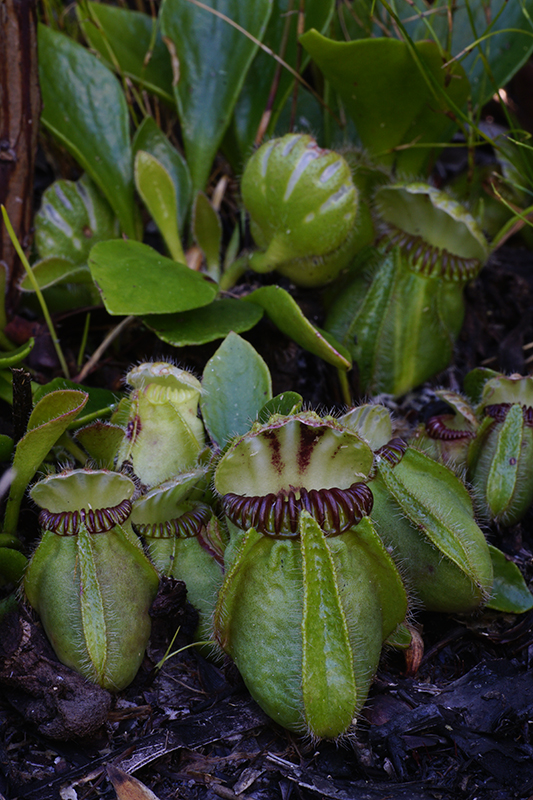 Nestled beneath these we also saw the Cephalotus folicularis, a remarkable little carnivorous pitcher plant. I was larger shown a less accessible colony of these (right next to the sea) by Karen, a local orchid enthusiast, who also treated us to hammer and flying duck orchids. This was on a day of contrasts when we also visited the immense tingle trees, best appreciated form the sturdy walkway constructed into their canopy. Orchid people were encountered on a regular basis and readily pointed us in the direction of new species such as the delicate pansy orchid or the ultimate, Spider Orchids galore were blended with donkey orchids, sun orchids and china orchids among such a rich array of heath plants that it was hard to take it all in.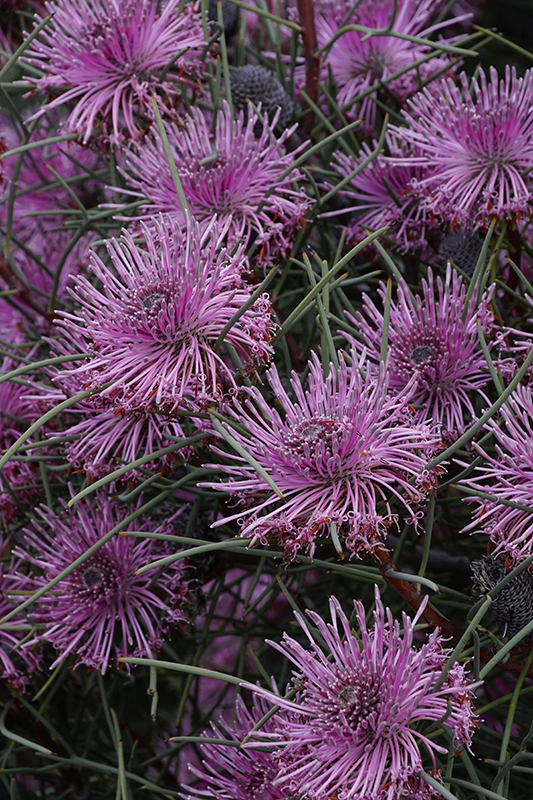 This continued as we drove north via the curved stone of Wave Rock. It was near here that we found the most incredible Isopogon , the whole bush smothered beneath wonderful whirling turbans of flowers. The botany was wrapped up with a sun orchid double, where we managed to coax a pretty blue-and-white striped Thelymitra campanula to open fully and then found the towering stems of Thelymitra macrophylla near Perth. Each day we had a plant of the day and there was scarcely a lack of choice. Selecting plants for a gallery (see Kwongan--Wandoo-2017)was a real headache. Add to this the universal friendliness of the people, who helped us twice with car problems and were always so amenable whenever we met them.